Get the Parking Structure You Want
Clark Pacific can do what other parking structure builders cannot. We design, manufacture and build the complete parking structure.
Owning the process end to end for improved customer satisfaction, budget and schedule certainty.
Our offsite manufacturing approach reduces overall project risk through improved cost and schedule certainty, and greater supply chain controls, without compromising a project's overall design.
Greater Controlled Costs Brings Greater Control
Through the design, manufacturing, self-perform and direct control of Design Build trades, we control more than 90% of all the associated costs in delivering the parking structure. This is how we can guarantee an early competitive price and delivery schedule.
Accelerated construction schedules
Reduced site impacts
Safer job sites
Less construction waste
Budget & schedule certainty
Higher quality product
Accelerated Project Delivery
Offsite construction can deliver projects between 30 and 50 percent faster than traditional methods. Offsite construction occurs simultaneously with the site and foundation work, and schedule delays due to weather and other external factors are significantly reduced since much of the construction takes place in a controlled environment.
Coleman Highline Parking Structure 2 - San Jose, CA
Go with the prefabrication design experts for your next parking structure.
Reduced Site Impacts and Improved Quality
With offsite construction, work is performed by fewer workers and in climate-controlled factory settings. Offsite construction allows skilled craftsmen a safer and more productive place to do their job; quality can be monitored and guaranteed throughout the production process.
Minimum laydown area required, ideal for tight construction sites
Eliminate most formwork on site
Reduce construction waste
Reduce construction traffic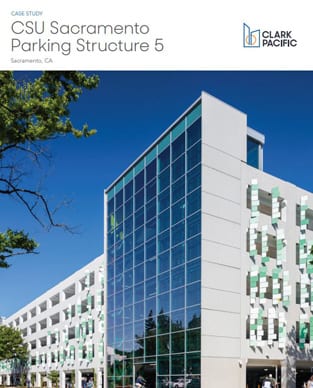 Case Study | CSU Sacramento Parking Structure 5
Sacramento State's Parking Structure 5, exemplified all the characteristics of a construction delivery best-practice project. The use of off-site manufacturing methods along with the Collaborative (Progressive) Design-Build approach made the project innovative, efficient and minimized overall disruption to the busy campus in Sacramento, California. 
Project highlights:
Completed in 11 months
On budget
Approach removed 5,700 worker-days offsite, reducing site impacts
Recognized nationally for its sustainability features
Achieved USRC Gold rating for resiliency
Approach to Facilitate Lean Construction Techniques
Look to our team to lead the creation of an integrated and collaborative delivery environment for your project. Stakeholder engagement will be a priority from the onset, starting with design development and continue through construction and final acceptance. We utilize LEAN best practices and our in-house Certified Lean Instructor practitioners, to on-board and facilitate establishing specific guiding principles based upon your needs and the needs of your internal stakeholders. The following are key differentiators to our integrated approach that assures benefits are realized implementing Lean Construction techniques and best practices. Our key specific high-value approaches include:
Establishing an integrated collaborative environment that promotes your project first.
Functional teams to proactively respond and overcome constraints and potential challenges.
Right-sized co-location approach assuring stakeholder effectiveness.